Sometimes it is just best if our techs can "see" the issue directly. Using our remote control app we can ask you to turn on your phone's camera and stream the video of the issue directly to us. Here's how –
Go to your phone's app store (Apple App Store or Google Play) download and install the "Connectwise Control" application
Once you have confirmed to us that the app is downloaded and installed, we will email you a support link. Click on this link in your email application on the phone.
You will get a popup message asking you to "Launch App" and then "Open in Control" – tap open.
Our tech will join the session and you will get a "Consent to View" popup, please OK/grant us permission.
You will get a second prompt to "Initiate Screen Share"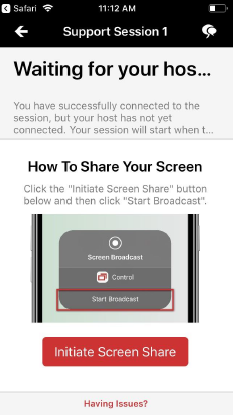 Tap on "Start Broadcast" on the bottom to grant Control permission to broadcast your phone's screen
You can now press or swipe on your phone to return to the home screen. From the home screen open the camera and typically flip it to the rear camera so you can guide our tech to the issue.
This connection is not the fastest, so we ask for your patience.
Once we are done, your phone will remain in "Screen Recording" mode, simply swipe up to turn off and hitting the red record icon, or simply restart your phone (it probably needs a good restart anyway!)